Charcoal Poultice
Charcoal Poultice
"After this I had a very painful time with my whole head. My cheek was swelled large and hard. Ellen White was with me at the time, and she pounded up charcoal for me. With this pulverized charcoal and hot water I treated my face for hours, till the soreness and pain was killed." Letter 19, 1896. Ellen G. White.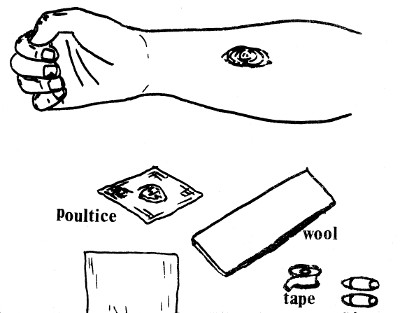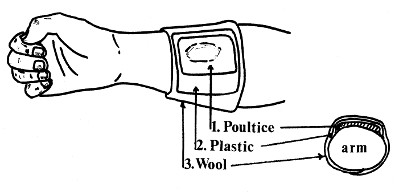 from Hydrothermic Remedies...
Effects:
Adsorbs poisons
Reduces inflammation
Definition
A soft composition of powdered charcoal usually heated and spread on a cloth, and applied to a sore or inflamed part of the body.
Indications
Infected Wounds
Chemical poisoning
Insect Stings and Bites
Gastrointestinal problems such as Diarrhoea and Gas - large poultice on abdomen - see Charcoal for Diarrhoea
Contraindications
Rare
Equipment
Powdered Activated charcoal
Warm water
Deep container and spoon (size depends on size of poultice to be made)
Flaxseed meal (grind fresh each time as the meal rapidly goes rancid)
Clean muslin sheeting, flannel or paper towel
Wool cloth
Plastic or kitchen cling wrap
Pin or tape
Ice or cold compress
Procedure
Important Considerations
Handle charcoal with care - it can be messy
Remember: Serious conditions need expert medical attention as do mild conditions which do not respond
Preparation for Treatment
Assemble equipment
Have room warm and draft-free
Treatment
Use equal parts of flaxseed and charcoal
Add enough hot water to make a paste
Apply charcoal paste to the muslin/flannel/paper towel quickly to prevent cooling; spread out to desired size.
Wrap cloth around charcoal
Place on area to be treated
Cover with plastic, or cling wrap, then wool cloth
Pin or tape in place, leave overnight.
Completion of Treatment
Remove poultice, being careful not to let crumbs of charcoal fall to the floor
Rub with ice or very cold cloth
Repeat with fresh poultice as needed
Poultice may be:-
made without flaxseed but it is more difficult to handle
reheated after mixing in frying pan or wrapped in foil over the flame on the stove burner.
Very few side effects