About
About Treatments
Temperature Conversion Table
Common temperatures and their range
| | | |
| --- | --- | --- |
| | °C | °F |
| Very Cold.... | 0 | 32 |
| | 5 | 41 |
| | 7 | 45 |
| | 10 | 50 |
| Cold......... | 13 | 55 |
| | 15 | 59 |
| Cool......... | 18 | 64 |
| | 20 | 68 |
| | 25 | 77 |
| Tepid........ | 27 | 81 |
| | 30 | 86 |
| | 32 | 90 |
| Neutral...... | 33 | 92 |
| | 34 | 93 |
| Warm......... | 35 | 95 |
| | 36 | 97 |
| Hot.......... | 37 | 99 |
| | 38 | 100 |
| | 39 | 102 |
| Very Hot..... | 40 | 104 |
| | 41 | 106 |
| | 42 | 108 |
| | 44 | 111 |
| | 45 | 113 |
| | 50 | 122 |
| | 55 | 131 |
| | 60 | 140 |
| | 70 | 158 |
| | 100° | 212° |
HYD
Important Points to be Observed With All Treatments
from Simple Remedies pages 2 and 3.
Many of the diseases listed are dangerous. Always check the diagnosis of acute conditions with your doctor.
Most doctors will not know about Hydrotherapy but unless there are some contraindications (reasons for not doing the treatment), these treatments will not cause harm.
If your doctor has a valid reason for not allowing Hydrotherapy please FOLLOW THE ADVICE.
The Room
Warm
Free of drafts
No bright light in patient's eyes
Protect furniture, rugs, bedding etc.
Leave in same condition (or better) than when you found it.
The Treatment
Think and plan ahead just what you intend to do
Assemble all necessary articles before starting
Spread drape sheet over bed before patient undresses
Stay with patient or within easy calling distance
Don't be too talkative
Make your changes quickly
Be neat; pick up and clean up as you work
Be economical of time, linen, etc
Return all materials to proper place
The Patient
Must be warm to start (may use Hot Foot Bath, Covers etc)
Must undress for most treatments
When heating patient, use a cold compress to the head or neck
Gain their confidence. Explain procedures, what is coming next and the effect desired.
Don't sneak cold changes, unwarned.
No unnecessary exposure (only the part under immediate treatment)
Should be comfortable at all times (burns, falling, position etc.)
Keep patient relaxed
Dry thoroughly (feet, between toes, under arms etc.)
Allow and demand rest period after treatment
Avoid chilling
Must be in state of heat conservation (no sweating) before dressing
These treatments are very safe if properly performed but...
A little carelessness may undo all the benefits of a treatment.
Do not continue treatment indefinitely if there is no obvious improvement. In acute cases the response should be seen rapidly. Chronic problems may improve only slowly.
See the Doctor if:-
the disease is Acute
there is any threat to vital function ie

difficulty breathing,
heart irregularities,
blocked circulation or continued bleeding,
blocked bowels or urination.

there is no or slow improvement especially in acute cases
the disease becomes worse
the patient wants to see a doctor
I have given you the best of my advice and that of all those I gleaned it from, but it is only advice. If any problems develop as a result of using this advice, I would like to know, but I cannot accept responsibility for the outcome.
The remedies here have all, without exception, been used and recommended by many qualified Doctors of Medicine. In most cases they are more effective if treatment is begun early in the disease process.
If you find any mistakes or know of any improvements in treatment methods please Contact me.
These treatments DO work but must be applied correctly to correctly diagnosed problems. The procedures themselves have few adverse side effects, the major problem you may encounter is that of poor response, slow or no recovery. In these cases re-check the diagnosis and the procedure.
Seek medical help if acute conditions do not respond positively to treatment.
GKA
Prescription Writing
Dr Abbott's methods of working out how to treat problems
Treatments that are disagreeable to the patient are rarely effective.
Treatments on ambulatory patients should only take 45-50 minutes.
Do not change the treatment too quickly, certainly not daily, only change treatment as the patient's condition changes or goals are reached.
Proper combinations require personal supervision and a knowledge of physiology (normal and abnormal) and how to achieve the desired therapeutic effect.
Principles of Prescription:
Apply as many procedures as possible, simultaneously.
Treatments given on the table should precede treatments given in the wet rooms
Milder procedures should be given first, those that produce the greatest reaction, last.
Only one general tonic cold should be given during a single treatment session.
Sweating treatments must be followed by a cooling application.
Study the patient so that treatment is individualised and specific
GKA

Dr Abbott says...
Infants do not react well to either extreme heat or cold. Fortunately, however, they respond to milder temperatures in as decided a manner as adults do greater extremes.
Meet Dr Kellogg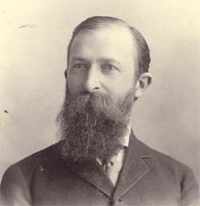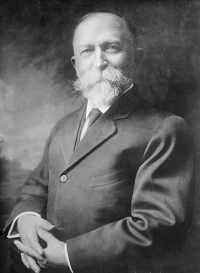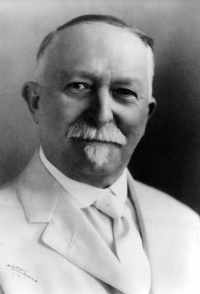 JHK
Dr John Harvey Kellogg
1852-1943
Yes he did invent cornflakes but it was his brother, Will who developed them commercially and sold them.
Born in Michigan, printer by 14, school teacher at 17, John early "exhibited boundless energy for work and for obtaining knowledge", and for "burning midnight oil". He studied at Bellevue Hospital Medical College in New York for 2 years, graduating in 1874.
He was lifetime director of the Battle Creek Sanitarium in Michigan and editor of Good Health. He became known as one of the best surgeons in the U.S, and a pioneer in physiotherapy and nutrition. A vegetarian he was also a popular lecturer, a traveller, making frequent European trips to study their medical techniques (especially hydrotherapy and surgery), and the author of 50 medical books.
Reading between the lines he could be a pain in the neck. He expected a lot from his staff, he was always right and he was a tall poppy.
A member of the Seventh-day Adventist church, it was the health philosophy held by this church that led him to find "simple" methods of treating disease.
In 1907 he left the Seventh-day Adventists, ostensibly on theological grounds but the truth is that there was quite a bit of personal animosity with church leaders. The upshot of this split being that hydrotherapy had lost its greatest proponent within the medical work of the church.
Quite a few of the doctors who eventually began Loma Linda University and wrote hydrotherapy texts, had some bitter struggles with Kellogg. Justified or not, these grudges resulted in Kellogg's methods being ignored or maligned for personal, not medical reasons.
Today only a few SDA institutions have working hydrotherapy departments and those that do are used mainly for relaxation not for treating disease.
Kellogg's work on hydrotherapy needs revisiting. While I don't believe he was always correct, he certainly had lots of experience in which to weed out ineffective treatments. I see his work as a baseline for further advances, as it was based on actual usage.
Meet Dr Abbott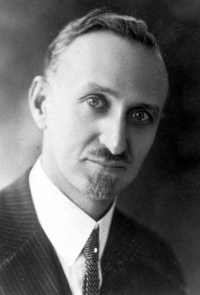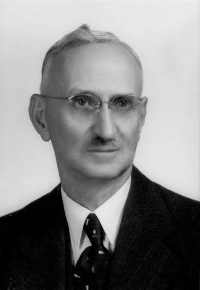 GKA
Dr George Knapp Abbott
1880-1959
Physician, administrator and author. A graduate of the American Medical Missionary College (1903) when Dr JH Kellogg was president, he began the practice of medicine in Burbank, California. In 1906 he married Dr Cora Richards, and the two went to Loma Linda Sanitarium to assist in developing a medical school. He was president of the Loma Linda College of Evangelists (1907-1910), and then dean of the College of Medical Evangelists and the medical superintendent of the sanitarium (1911-1914).
Dr. Abbott was the youngest president of CME at the age of 26. He is the author of thirteen books on physical therapy, diet and nutrition.
After his service at Loma Linda he continued in denominational work for 32 years, serving as medical director of St. Helena Sanitarium, Washington Sanitarium, and Glendale Sanitarium. During this time he was very active in promoting a vigorous health program.
(sources: Seventh-day Adventist Encyclopedia, 1976 and Loma Linda University Photo Archive)